Compatible with Windows, Sun Palace Casino's free software allows you to download and run the application directly from your PC. While these days you can play instantly through your browser, downloading the casino to run off your PC has its advantages.
Download Advantages
Running the Sun Palace Casino software gives you full access to the library and is much less intensive on your internet connection since it's running directly from your computer instead of streaming through your browser.
The result being that the gaming experience is much much faster as it doesn't take as long to load resources.  This also means that the visuals and overall gameplay is much smoother and more reliable.
Download Disadvantages
Simply put, it's just not as convenient to play directly from your browser as it enables you to play from any device instead of relying on just your computer to play.  Luckily Sun Palace Casino provides both options so you can choose to play either via download or instant play
How to Download/Install
Step 1
Download the installer here:
This will download a small file (around 870kb)  called setup.exe

Once it's finished downloading, click on it to start the installation process.
Step 2
When the installation dialog box appears it will look like the following image below.  Click next to continue: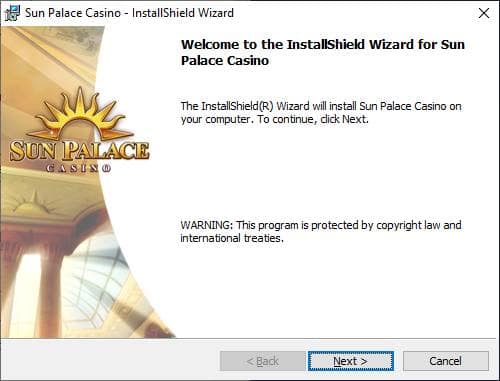 Step 3
Here you can decide the location of where the software will be installed.  If you're not sure, just leave it on the default location and click Next
Step 4
Click on Install to start the process
Step 5
The installer will start installing the necessary files to run the application.  It might take around 5 minutes to install depending on your PC speed.
Step 6
Sun Palace Casino has been succesfully installed!  Click on Finish to load the casino
Once you register/login, you'll have full access to the game library and if you've come from playing the instant play version, you might notice that the graphics and speed are noticeably quicker.